Extracellular vesicles (EVs) are tiny particles that are naturally released from cells. Their size varies, but most EVs are usually under 200 nm, about 2000x smaller than a human cell!
Their outside "shell" is made of the same thing as cell membranes: a lipid bilayer. Indeed, they are created from the membranes of cells. However, unlike living cells, EVs do not have a nucleus or the ability to replicate. Instead, they can carry cargo inside. This cargo can be nucleic acids (like DNA and RNA), lipids and/or proteins. Most cells of various organisms can release EVs, which can help them with several functions and signals to other cells.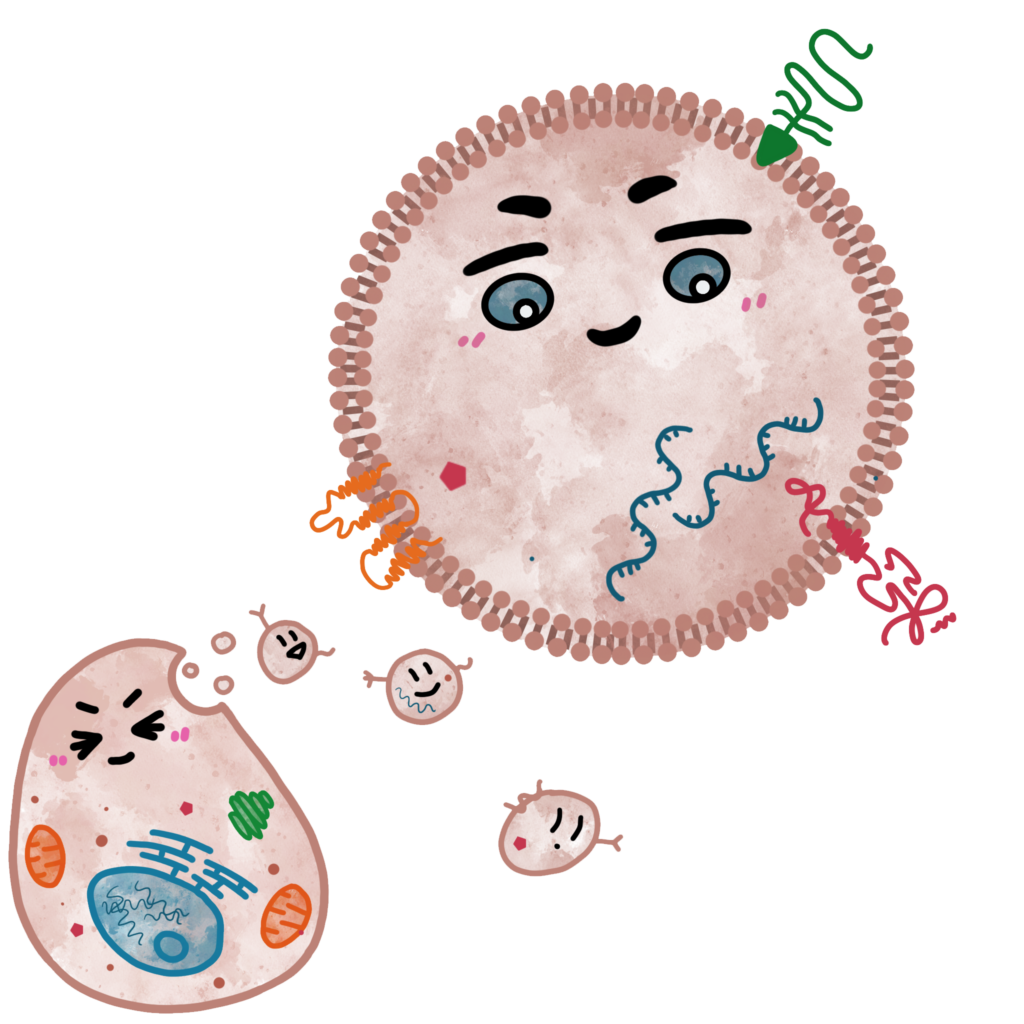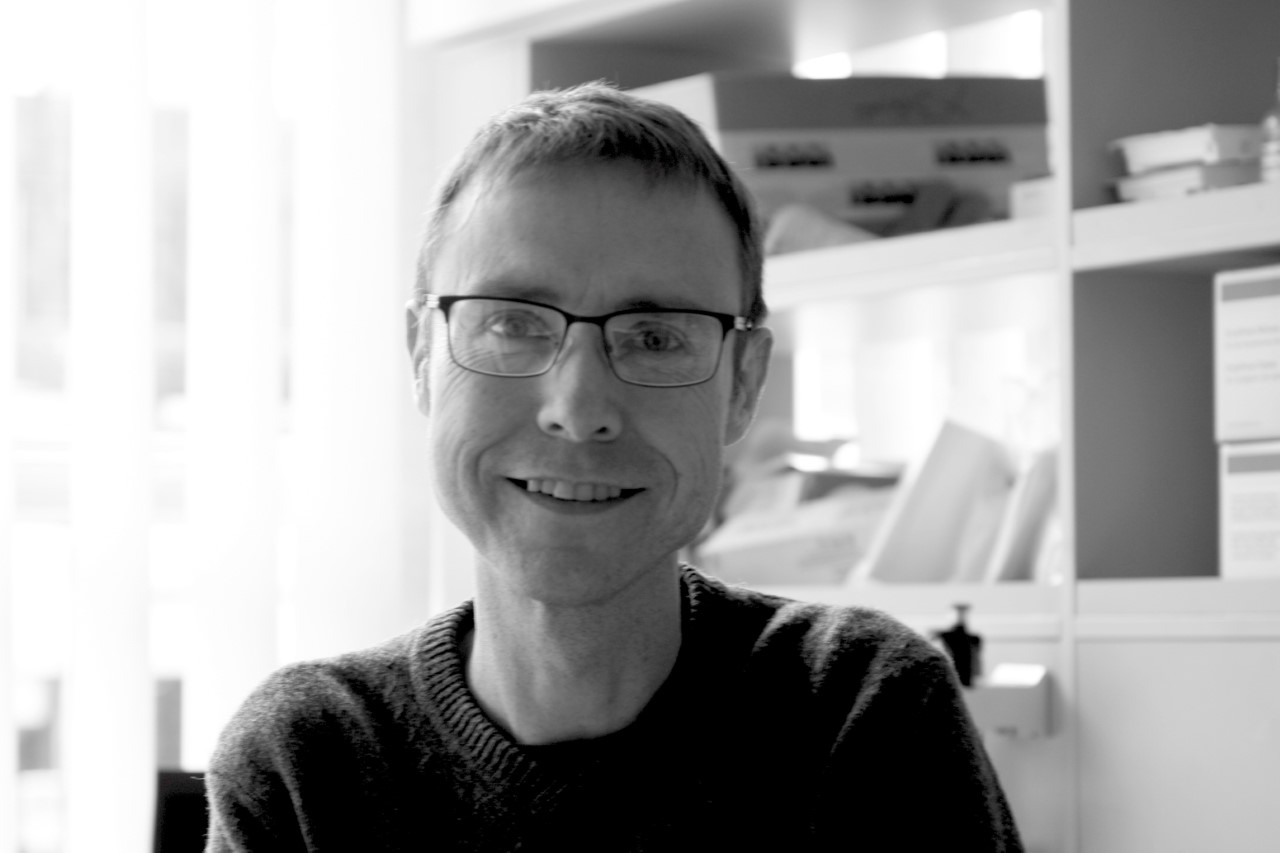 Prof. Aled Clayton – Cardiff University

Why do we research extracellular vesicles in cancer?
We are interested in understanding how cells produce these small fat bubbles (EVs) and why they seem to do this so extensively. Our studies focus on the role of EVs in changing the immediate surroundings of the cancer tissue. It seems these EVs can perform various parts. They can interfere with the correct function of cells of the immune system, encourage the formation of blood vessels, and hijack other neighbouring cells to behave abnormally- all of these effects assist the growth and ultimate spread of the tumour.
By studying EVs in cancer, how they are formed, what they carry, and what they do, we will learn more about preventing, diagnosing, and treating cancer.
Do you want your own 3D EVee?
The EVee model is a great tool to teach students at all levels of study about extracellular vesicles. You can print your own if you have a 3D printer, or you can download the model below and take it to a local printing facility.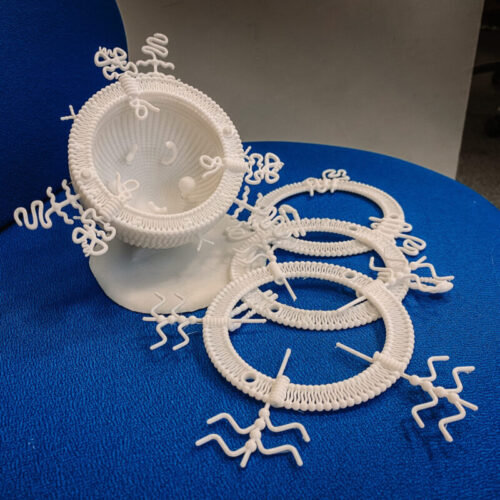 Download our booklets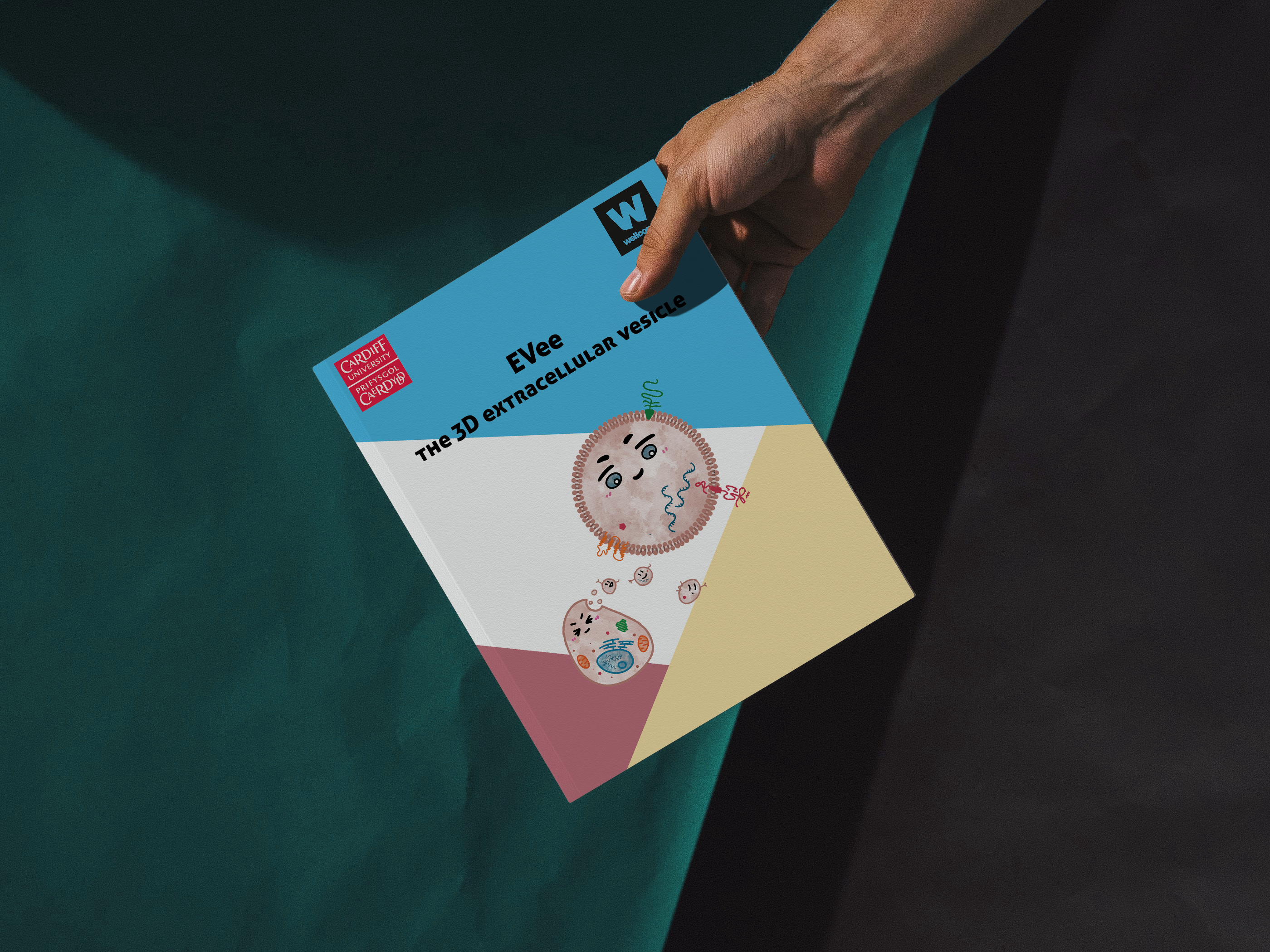 Are you teaching at a university or A-level and want to use the 3D model to teach one of your sessions? You can download our booklet below, which has information on each of the components present on the model. You can also download our list of recommended literature.
Do you want to use the 3D print as a fun family activity? Are you a school teacher and want to teach science or a public engagement professional who wants to use the 3D print for outreach? We have just the thing for you. You can download our lay booklets below in various languages. Don't see your language here and would like to help us offer it? Get in touch with us.
We need your feedback
We want to make this resource as accessible as possible to everyone. If you've used it, we would really appreciate your feedback. You can click the button below to access our feedback form. It won't take long, and it will help us improve this resource for you.
We would love to see if you print your EVee, use our booklets, and share them on social media. Don't forget to use
#EVee3D
You can also tag us on Twitter, to make sure we don't miss it: @Almeida_de_Dr @CUmedicengage @CUBLSResearch
This resource was created as a collaborative effort with contributions from the individuals listed below:
Christian Burton, Andreia de Almeida, Sara Veiga, Kate Milward, Muireann Ni Bhaoighill, Lauren Evans, Roman Mikhailov, Fangda Wu, Chris (Xin) Yang, Rachel Errington, Jason Webber, Aled Clayton
This initiative was supported through a Welcome Trust Institutional Strategic Support Fund (ISSF) multidisciplinary grant awarded to AC and XY, and an ISSF fellowship to AdA. It also received funding from the Innovation for All call, awarded to AdA and AC. The authors would also like to acknowledge the Horizon 2020 MSCA Initial Training Network proEVLifeCycle (Grant Agreement 860303) for funding, and Prostate Cancer UK Career Development Fellowship (CDF13-001) awarded to JPW. Authors also acknowledge the Health & Care Research Wales fellowship (HGR-18-1508) awarded to KM, and a Cancer Research Wales PhD Studentships for LE and SV and a Tuberous Sclerosis Association (2018-S02) studentship for MNB.
---