Creativity is an escape for many people and has been especially important during the pandemic. Many turned to crafting and tried new crafting-related hobbies as a mindfulness activity and as a way to keep their mental health in check.
While it is often assumed that STEM subjects (Science, technology, engineering and mathematics) are very dissociated from arts and humanities, that is not necessarily true. Many scientists and healthcare professionals have creative hobbies and use creativity in their workplaces in various ways. For example, performance arts can help healthcare professionals work on body language, and voice projection and tone, which can help them adapt and perform under different situations: teams, with patients and also presenting their work to others. Scientists with creative hobbies that involve crafts and arts, may be able to solve lab problems more creatively and see things from different perspectives. It can also be a great way to help people unwind after stressful days at work.
I am one of those people with many hobbies, all of them creativity-related. Currently, my main hobbies are sewing and dancing. But I do enjoy photography and video editing, as well as drawing and painting. Dancing has been in my life since I was 16 and went with my mom to my first salsa class and it's how I met my husband. Moving abroad for my PhD, going to dance socials and classes was a great way to make new friends outside of work, release some energy and have fun. I even taught afro-latin dances for 2-3 years during my PhD. It was such a great way to blow off steam after a long day of work. It was still work, but I loved teaching and the energy my students gave me every evening. I don't teach dance classes anymore, but I still actively go to dance socials and have even learned a few different dance styles since then. Sewing has also been in my life forever, but more seriously for the last 4 years. It's such a great mindfulness activity! And I love expressing myself through clothes. Through sewing, I can wear more sustainable garments that actually fit me, and that are really "me".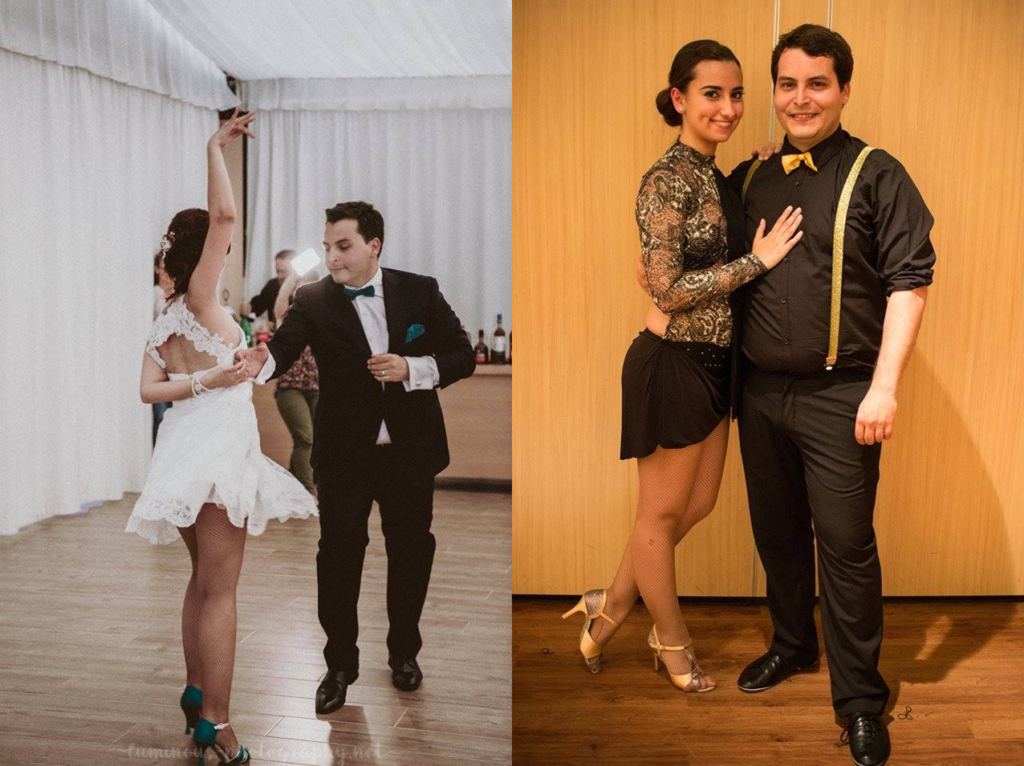 But enough about me. I wanted to bring some insights on how a medical practitioner and a medical student fit crafting into their lives. For this, two former The Great British Sewing Bee (GBSB) contestants: Rumana, is a GP, the writer of the blog "The Little Pomegranate" (Instagram), and was a quarter-finalist on the GBSB series 4; Serena is a medical student in Edinburgh and the youngest GBSB winner (Instagram). Keep reading, to find out if and how crafting and sewing have helped with their mental health, and also their medical careers.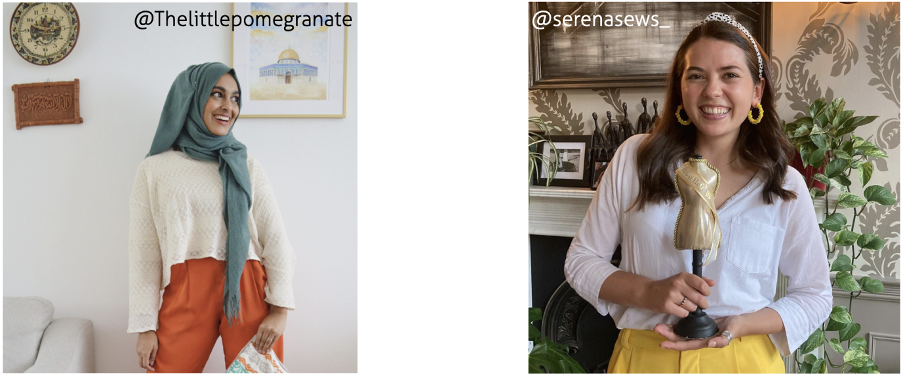 What kind of crafting do you do, and if more than one, which is your favourite?
Rumana – I would call myself a multi-crafter. My main craft is sewing but I also do crochet, knitting, DIY and Cricut-ing (vinyl/papercraft). But I'm always up for trying something new and recently learnt how to needle punch. I definitely go through phases with my crafts depending on my energy levels. I have a running 'couch craft' project e.g. knitting which I can pick up and do on the sofa when I'm too tired to sit at the sewing machine.
Serena – Sewing is my main and favourite craft. I do a little bit of knitting and embroidery, but sewing is my real passion and I even got to share it on tv on the Great British Sewing Bee!
Rumana, I read on the Sewing Bee website, that you stopped crafting while studying due to lack of time. But are there any skills that you've acquired through your crafting hobbies that you think were helpful at all while studying (and also practising) medicine?
Rumana – So many! I think one of the things it's taught me is perseverance- in medical school there's often a pressure that you have to do well in everything and know everything immediately. But crafts are very humbling in the way they teach us a practical lesson in 'practice makes perfect' and 'we all start somewhere'. I think it's also been such a valuable tool to help unwind/destress after work- which is essential for a career in medicine!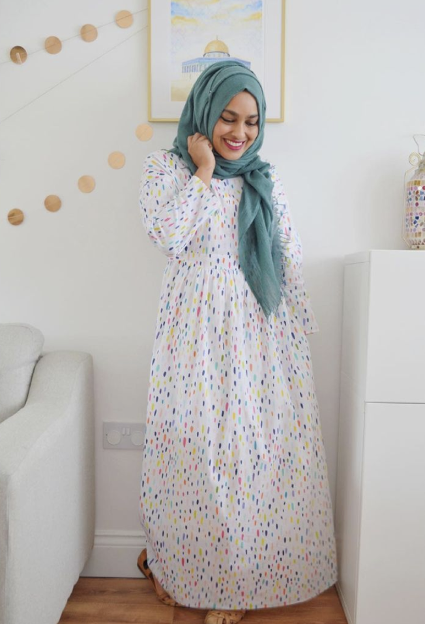 Serena, have you managed to sew during your studies, or have you had long periods of time when you were too busy to sew? If this was the case, do you feel that not being creative for some period of time affected you and your studies in any way?
Serena – Apart from the first year when my room in halls was basically a shoebox, I have always been very fortunate to have the space to sew while at medical school and have slowly become used to fitting it alongside my studies. Sewing is a way for me to switch off from medicine and think about something else, and if I don't have this creative outlet for a long period of time, I become more and more stressed. When I am too busy to sew, I still try to do aspects of sewing other than physically sitting at my machine, such as researching and planning projects, which can be done away from home or during a short break. I often need to prioritise tasks and save sewing for the evening when I've finished studying. Strangely, I am often most creative during exam season, either because I am procrastinating or because I need even more of an outlet because of the exam stress.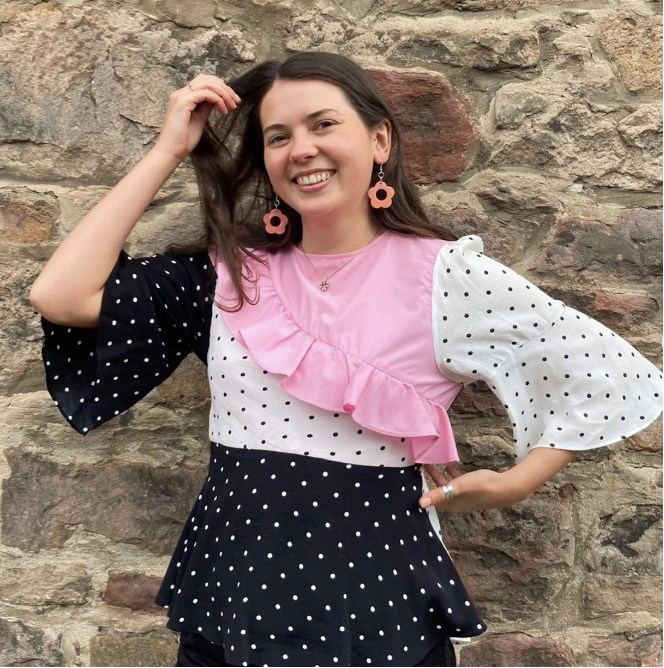 Are there any skills that you've acquired through your crafting hobbies that you think were helpful at all while studying medicine?
Serena – Many skills I learned while on the Sewing Bee are very translatable to medicine since they are all about communication. I had to explain things in lay terms, summarise challenges and reflect (a lot) on my feelings – all of these skills are important for medicine. As mentioned in the previous question, sewing alongside medicine has taught me about time management and task prioritisation which is always important.
Do you think Medical Education should involve more medical humanities, especially artistic subjects? How do you think this would be helpful for a future medic?
Rumana – Absolutely. I was incredibly lucky to have done exactly that. For my final year SSC, I did a module run by a lecturer from the humanities departments who focused on medicine in literature/art/media etc. Our 6-week assignment was to pick up a hobby that we had given up over our studies. I picked up sewing and ended up sewing my graduation dress, which dominoed into me applying to the Great British Sewing Bee years later and now to this incredible career I've built from all that experience. It was also amazing to see the interests/skills my fellow students had- from photography, building computers, piano etc. I think there is a big issue around the 'medical treadmill' and it consuming your life. The pressure can so easily lead to burnout, so I think it's important to remind students (and doctors) that it's ok to have interests outside of medicine and in fact, encourage them, as they help mould you as a whole person. I often tell people we aim to practice person-centred care for patients but also need to practice person-centred care towards ourselves- we aren't robots after all.
Serena – I think it is important for people to have a hobby/creative outlet alongside medicine, as the course can often feel all-consuming. If the medical school provided this opportunity during the course that would be great, but I understand that not everyone would be interested in this.
How do you feel that crafting affects your mental health?
Rumana – It's essential for me and my mental well-being. It gives me time to unwind and use a completely different part of my brain. It also keeps my hands busy and actually means I spend less time in front of screens which can only be a good thing! I can definitely feel it when I go a stretch at work without any crafting at home.
Serena – Crafting and sewing have done wonders for my mental health during university. As someone who overthinks very easily, sewing gives me time to decompress and think about something completely different, or depending on the task at hand, not think at all for a while. I have also made some amazing friends through the crafting society, so would definitely recommend finding people to share crafting with!
Have you ever thought that sewing (and other crafting) could be related to teaching and practising medicine? Below you can find some resources for further reading:
Andreia